DESIGN AND CONSTRUCTION MANAGING
Buildings concept and design, focused on integrated planning between Urban planning, Architectural, Structural and Plants Engineering.
e-Making S.r.l. design process is fully developed in BIM environment on a dedicated CDE platform, certified by Building Smart International.
Design

Construction managing

Safety supervision

Technical and

Structural

tests

Due diligence
Facility management
LASER SCANNER SURVEYS
Buildings surveys with laser scanner technology, returned as:
Points cloud in .xyz format

Points cloud in .rcp format

Points cloud in .rcs format

Texturized 3D model in .obj format
DRONE INSPECTION
SAPR Operator for Specialized Operationse
Authorized by ENAC APR-2019-0014743:
3D models of the built environment;
Photogrammetric and Point Cloud surveying;
Civil and industrial buildings inspection;
Inspections of buildings and photovoltaic systems with thermal camera;

HD quality videos;

HD quality photos;
CO-DESIGN PLATFORM
R e a l & M o d e l       M i x e d   T o u r

Co-Design platform allows users to directly experience uploaded projects and to directly test preset materials and/or other objects options.Using simple mouse click it's possible to navigate the model. The virtual tour can be activated using the menu at the top right of the screen, corresponding to preset views, or launching the automatic Tour through the bottom right menu. The automatic tour can be stopped at any time for navigating the model. The platform can be used as real estate configurator, with the possibility to make choices from the project tender possibilities about internal finishing as floors, surfaces, doors, etc., or as tool for co-participated planning of public areas, letting people express ideas or preferences about proposed project possibilities, navigating 3D model. Clicking on blue icons with  " ì "  it's possible to change objects materials.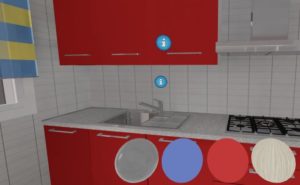 VIRTUAL SURVEY
Measurable virtual inspection, from any device at any time and without any software, usable on a dedicated platform.
Construction companies for buildings to be renovated and construction sites;
Design company for integration into the BIM Design process.
3D SPACE EXPLORATION SERVICES
Virtual tour of the commercial property that can be embed on website, with the possibility of locating it on a Google map integrated with Street View.
Ideal for immersive tour of the interior spaces of:
Real estate for sale and rent;
Spa Wellness Centers;
Bed & breakfast;
Hotels;
Restaurants;
Copyright 2019 e-Making Srl. All rights reserved | Via G. Astengo, 11 - 40017 San Giovanni in Persiceto (BO) | P.IVA E COD.FISC 03715901207, REA BO-540996 | Cap. Soc. 10.000,00 € |
Privacy